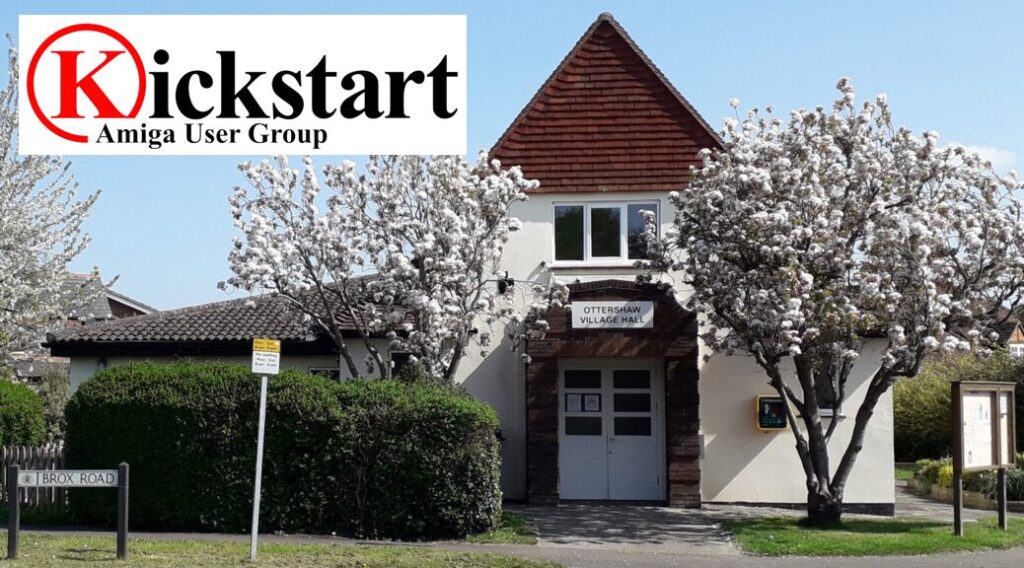 After considerable input and interest I am excited to announce we have booked a venue for the first Kickstart Amiga Group meeting of the new era!
Rather than September, we've opted for 15th October to avoid clashing with other Amiga user group events and so we can welcome many of our friends from other neighbouring user groups.
Book your tickets at: https://kickstartamigagroup.sumupstore.com/
For our first meet, we are going back to where it all began – Ottershaw Village Hall. This is where the Kickstart Amiga Group originally held its monthly meetings back in the 1990s and early 2000s, as well as the first three Kickstart Amiga Shows. Back then, it was called Brook Hall. Not only has the name changed, but the venue has had a substantial makeover and will be a wonderful place to hold our meet.
Key Information
When: Sunday 15th October 2023
Where: Ottershaw Village Hall, Brox Road,
Ottershaw, Surrey, KT16 0HG
Time: 9am-9pm
Cost: £15 per person
(price includes snacks and soft drinks throughout the day)
Ticket Link: https://kickstartamigagroup.sumupstore.com/
Kickstart is a non-profit event. The price we are charging is purely to cover the cost of renting the hall for the day and for the cost of the refreshments. If by some miracle, we have money left over, 100% of it will be put towards the cost of booking the hall for the next meet. Yes, there will be more of these!
About the Day
Logistics: We are well covered, whether you are driving or coming to us via public transport:
Driving: Ottershaw Village Hall is located roughly five minutes drive from Junction 11 of the M25, making it easy to reach from most motorways heading towards London.
ULEZ: Ottershaw Village Hall is located OUTSIDE the expanded London ULEZ zone, so if your car is not ULEZ compliant, and you are already outside of the M25,

you won't have to pay the ULEZ charge

to come to Kickstart by car.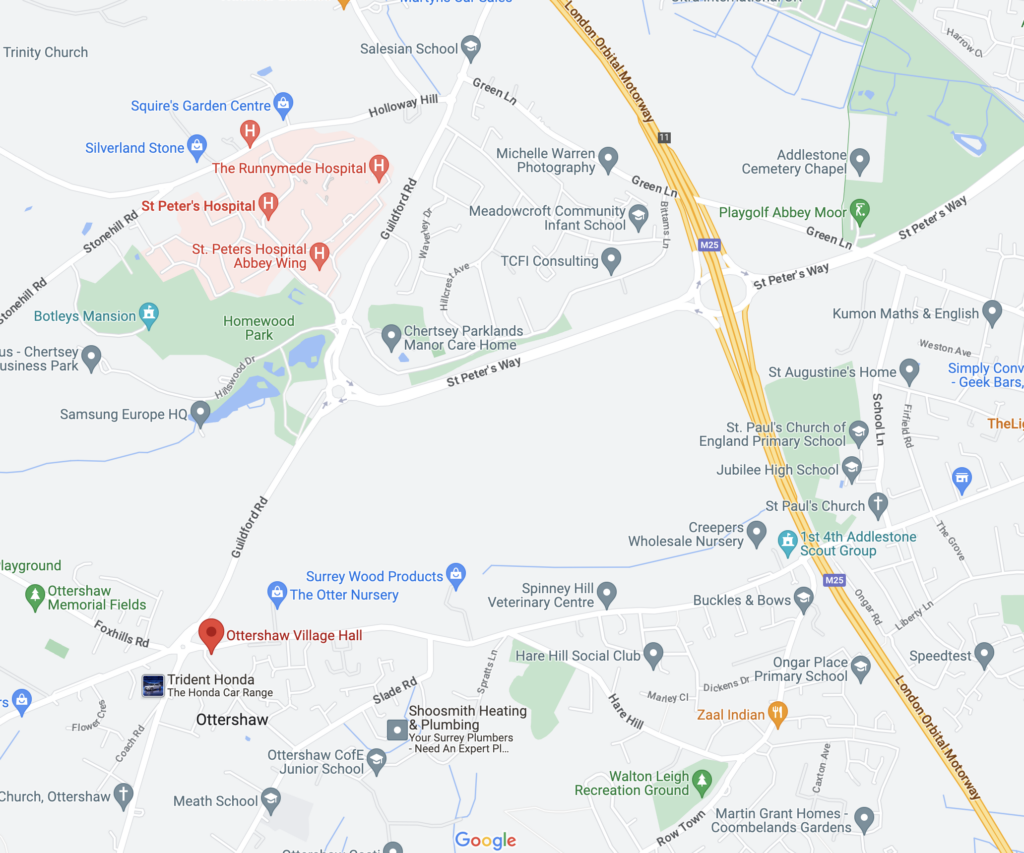 Parking: There is free car parking (capacity in excess of 40 cars) in the local authority car park directly opposite the venue on Murray Road.
Public Transport: The nearest train station is Chertsey. It is 2.3 miles from the venue and an inexpensive taxi ride to Ottershaw Village Hall.
Hotels: If its easier to stay over, there is a very reasonably priced Premier Inn located in Addlestone, just two miles from the venue.
What to Bring: If you have a table ticket (which we expect most people will), there will be a table and a chair for you – all you need to do is bring your Amiga! This list will help ensure you don't forget the essentials:
Your Amiga
A monitor
Mouse, Mouse Mat and Joystick
Power Cables and Power Supplies for your Amiga and peripherals
Mains extension lead (the more sockets the better)
Screwdriver (just in case you need to open up your machine)
What's Happening?: This will be an all-day user group meet up. It's a chance for us to do all things Amiga – fix them, use them show them off, talk about them – whatever you want to do. We will be doing a couple of gaming events:
Sensible Soccer tournament – There will be a trophy for the winner
High Score contest – Game to be confirmed, but there will also be a trophy for the winner
Also, some attendees are already discussing putting on their own demonstrations, such as a session to help people improve/learn to solder.
Refreshments: Your ticket price includes refreshments to help keep you going through the day. We will have an ample supply of bottled water, soft drinks (diet and non-diet), crisps and other nibbles that should last the whole day. If ticket sales exceed our initial budget, we will try and add in a sandwich lunch as well.
Selling Amiga Stuff at Kickstart: If you have things to sell, we are happy for you to do so at Kickstart. We will provide a table for people to put items for sale on. However, it is the seller's responsibility to deal with it. Similarly, if you make hardware etc. for the Amiga, we are happy for you to show these off and sell them at Kickstart.
Groups: If you are coming as a group (for example, if you are part of another user group) and want to sit together, just let us know after you buy your tickets and we will make sure we reserve you a group of places together.
Not Bringing an Amiga? You are still more than welcome – just buy a non-table ticket so that we know you are not bringing a machine. You will still get access to everything.
Local Amenities
There are plenty of additional options for additional food, drink, supplies etc. to keep you going through the day:
There is a large Miller and Carter Pub and Steakhouse Directly opposite the main entrance to the venue. We will likely end the day here with a celebratory drink for anyone who can join before we all go home.
There is a One Stop convenience store sand Post Office approximately two minutes walk from the venue on Brox Road, as well as a Londis convenience store approximately one minute's walk from the venue on Brox Road.
There is also a Lloyds Pharmacy on Brox Road, next to the Londis.
Mollie's Tea Room is approximately one minutes walk from the venue on Brox Road and is open 10am-2pm, serving breakfast (does a great fry-up), lunch, snacks and hot and cold drinks.
The 3 Rooms Indian Restaurant and Dragon Wok Chinese Takeaway are around one minute's walk from the venue on Brox Road.
The venue is also covered by Just Eat, Uber Eats and Deliveroo.