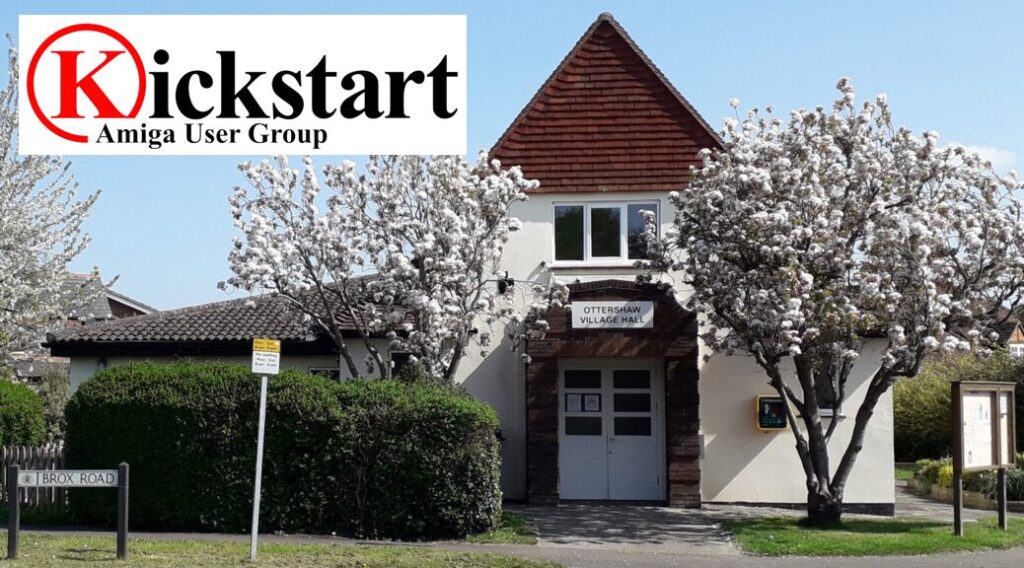 Hot on the heels of the success of our first meet, we are pleased to announce the date and details for our second meetup. Following a survey of members coming to our first event, we have confirmed Sunday 18th February 2024 for the meet. Tickets are on sale now, so please be quick as we did sell out of table spaces for our first meet.
Key Information
When: Sunday 18th February 2024
Where: Ottershaw Village Hall, Brox Road,
Ottershaw, Surrey, KT16 0HG
Time: 9am-9pm
Cost: £14-16 per person
(price includes lunch, snacks and soft drinks throughout the day)
Ticket Link: https://kickstartamigagroup.sumupstore.com/
For our second meet, we are once again holding it where it all began – Ottershaw Village Hall. This is where the Kickstart Amiga Group originally held its monthly meetings back in the 1990s and early 2000s, as well as the first three Kickstart Amiga Shows. Back then, it was called Brook Hall. Not only has the name changed, but the venue has had a substantial makeover and is a wonderful place to hold our meets. You can see some pics from our October meet here, as well as on our Facebook Group.
Kickstart is a non-profit event. The price we are charging is purely to cover the cost of renting the hall for the day and for the cost of the refreshments. If by some miracle, we have money left over, 100% of it will be put towards the cost of booking the hall for the next meet.
Continue reading

Kickstart 2 Confirmed for Sunday 18th February 2024 – Tickets On Sale Now!